Updates¶
You can run the system updates from the control panel, at 'System' > 'Update'.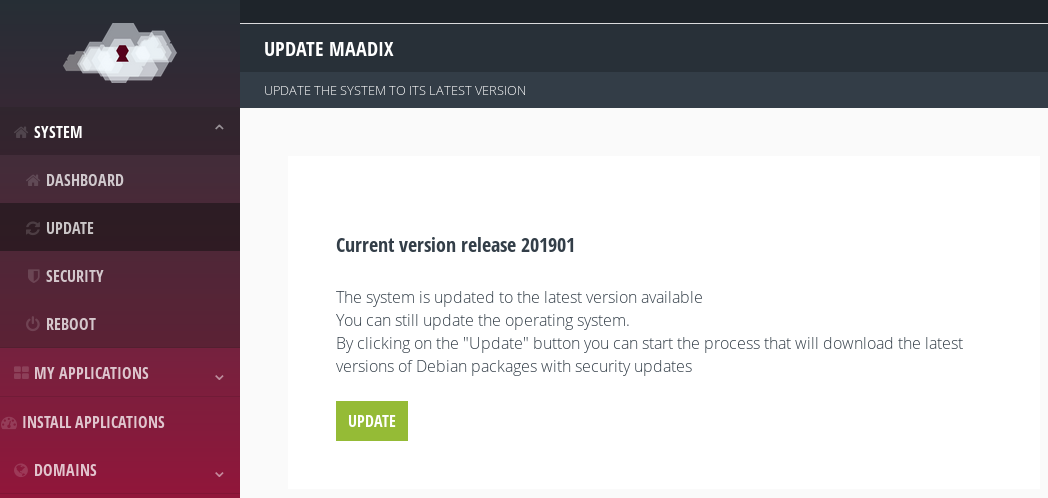 If you click on the 'Update' button, all system updates that are available at that time will be performed. This process will take a few minutes during which you will not be able to use the control panel. If you haven't updated this process for a long time it can take longer. If there is a new release of MaadiX it will also be updated through this process.
It is recommended that you visit the control panel from time to time in order to update and check the system details ('System'> 'Details').
MaadiX Updates¶
When there is a new version of MaadiX (a new release) you will see it indicated in the control panel, in the section 'Update'.
MaadiX updates may involve improvements in the control panel, application updates, bug fixes, implementation of new applications, etc. It is recommended to keep the system updated with the last release of MaadiX to have a better experience and avoid security problems.
Automatic updates¶
MaadiX servers have an automatic update system (using unattended-upgrades) that keeps the operating system and installed packages up to date. These automatic updates do not update to new releases of MaadiX, for this you have to do it manually from the control panel.
Although there is this system of automatic updates it is recommended to go to the control panel from time to time and click on the button 'update'.
System reboot¶
When certain updates are performed, the server needs to be restarted. This happens, for example, when the operating system kernel is updated. In these cases a warning will be displayed on the control panel indicating that a system reboot is required to load the latest updates.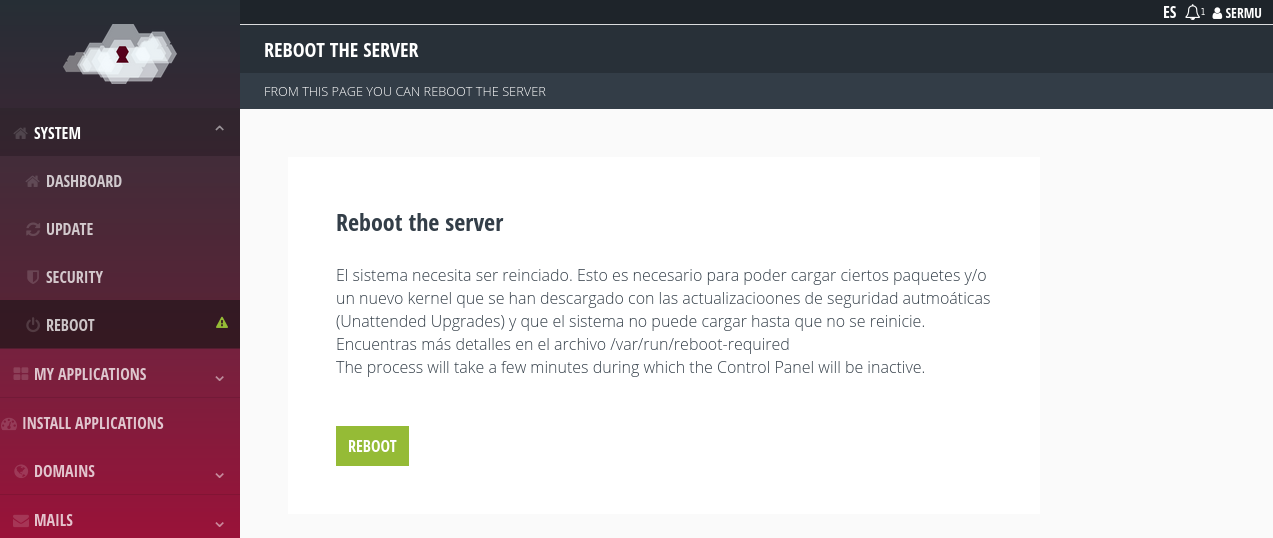 To restart the server just click on the 'Restart' button.
Note: during the restart process all services will stop (including the web server, email, etc). It should take no more than about two minutes.
Updates of the applications in MaadiX.¶
The applications you install from the control panel will be updated with the new releases of MaadiX.
For this reason, it is not necessary to manually update applications such as Nextcloud or Discourse, it is recommended to wait until a new release of MaadiX implements the new version. This way, the new versions will have been tested and optimized for the system, thus avoiding incompatibilities with other packages in the system. Whenever there are new versions of the applications, MaadiX will try to implement them as soon as possible in each new release.
However, the update of the plugins, complements or internal apps will have to be done in each application manually, as it is the case of the Nextcloud applications. Updates of Wordpress, Drupal (and other content managers) that are installed on the server will also have to be done manually.
Remember that keeping the entire system updated is essential to avoid security vulnerabilities.