VPN
Virtual Private Network or VPN (Virtual Private Network - Wikipedia) is a way to protect all your traffic through an encrypted, secure and direct connection to your server, guaranteeing the confidentiality of your navigation even in the most adverse circumstances (public or unreliable networks).
MaadiX's VPN allows you to connect to your server and manage it using a secure, encrypted connection at all times. In addition, you can also visit any Internet address by channeling your traffic through the server, allowing you to access content that might be blocked in the country where you are physically located.
To start using your MaadiX server's VPN you must perform three processes:
Install the VPN server (OpenVPN).

Create or edit a user from your control panel to give them access to the VPN.

Install a 'client' program on the device you want to connect to the VPN.
These operations are explained step by step below, without which you will not be able to enjoy the benefits of a VPN connection.
Installation of the VPN server
From the control panel, go to 'Install Applications', there you will see all the applications available to install, including the VPN Server (OpenVPN). Just check the box 'Select' and click on the 'Install' button.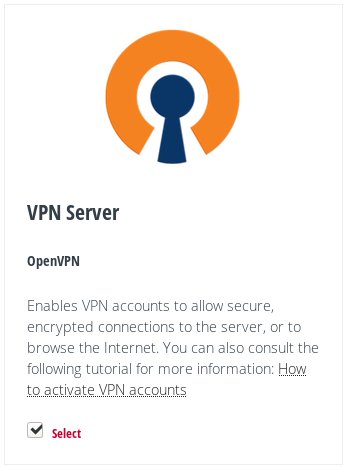 After a few minutes of installation you will have your VPN server installed in Maadix.
Create or edit an account
Once in the control panel, go to the tab 'Users' > 'Regular users'. There you can edit an existing account or create a new one.

Among the options available within the edit panel, you will see 'Activate VPN Account'. Check this box to activate the VPN account. If you do not have the VPN server installed, this option will not be available.

Also check the 'Send instructions' box to send the person an e-mail with the configuration files and the corresponding instructions for the configuration of the VPN client. Remember that the instructions include all the necessary configuration data except the password, which for security reasons you must provide through another secure channel.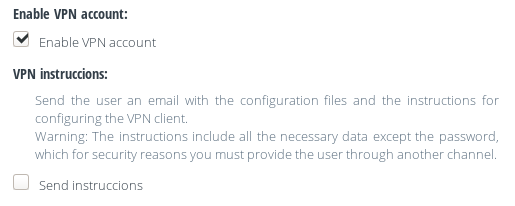 Note: in case you want to resend this mail with the configuration files you can do it in this way: Edit the account > check the 'Send instructions' box > press the 'Save' button. The instructions will be sent to the email associated to this account.
Install and configure the OpenVPN client
To establish a VPN connection with the server you need a client application. OpenVPN will be the free software and open source solution you need to use for Maadix. Below, you can find a detailed tutorial for computers with Windows, Linux, MacOS, as well as Android mobiles.